One of life's greatest pleasures is a warm summer evening with your friends, enjoying some superb food and your favourite glass of wine. Many people find the world of wine a minefield, but it is simple once you know the basics. Trust us; you don't need to be a sommelier at a top 5-star hotel to know your stuff. Excellent seafood and wine pairing are just divine. With Seafood, most of us know to think dry, crisp, and bubbly, although red wine certainly has its place, and wine lovers should feel confident pairing red wine with fish. 
A Little Bit Of The Bubbly 
When you want to pull out all the stops, the first place to start looking is delicious champagne. Champagne and Caviar have long been considered a classic pairing, so compliment with some poppin' Salmon Roe Caviar. The solid briny flavours will bring out all of those iconic notes in your favourite champers. Although champagne may be deemed superior, don't be in such a hurry to disregard a Prosecco or even Cava. In whatever its form, Sparkling Wine is spot-on perfect for fried food. Our Salt & Pepper squid with a complimentary bubbly will just cut through the weight of the fried batter. It's just… *chefs kiss*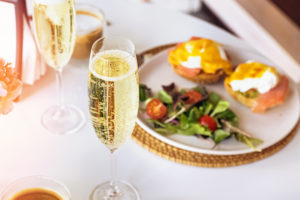 The Classic White 
White wine is an iconic staple when paired with Seafood. Here is an excellent tip to remember when selecting your perfect white to accompany your fish. Think about weight and substance, so delicate raw fish and light shellfish go best with equally soft white wines. Go or something heavier like a chardonnay for meatier fish like Halibut, Cod, Lobster, and Crab. Make sure to simply season, and if you have sauce, ensure it's creamy and light for the best way to complement the oakiness of the wine.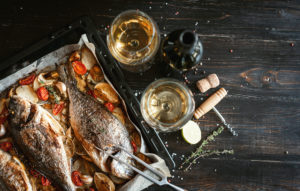 TOP SEAFOOD BY SYKES TIP: When in doubt and you're stuck on a choice, a New Zealand Sauvignon Blanc is versatile enough to go with pretty much anything. 
The Pink One – Rosé
A Californian Rosé will do that job better for any seafood with a sauce heavier than a glass of white wine would complement. A full-bodied rosé naturally comes with a bolder taste. So it can certainly take on punchier and spicier Asian flavours. We suggest trying a glass with Tuna & Salmon. Perhaps try this Seared Tuna with Sticky Sesame Chilli and Soy Dressing recipe. Pour yourself a drink and see what you think! If sparkling rosé is more your thing, try it with some smoked Scottish Smoked Salmon, it works like an absolute treat.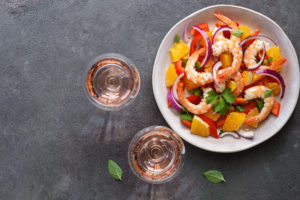 Red Wine – Light to Medium –  Bodied is Best
Let your wine be the sip that completes the dish. An excellent tip to bear in mind with wine pairing, and seafood is the dominant ingredient, rather than the fish itself, will have a more decisive influence on your choice of wine. Think of the red or dark ingredients we pair with fish, such as mushrooms, olives, tomatoes, bacon, and roasted peppers; these are components a red wine would certainly complement, think heavier flavours need heavier wine to balance out the flavours. With the BBQ season approaching, it's the perfect time to try a barbecued Tuna, Salmon, Mackerel, and Swordfish with light – to medium-bodied wine; keep it light with a delicate, fresh Pinot Noir.  The smoky and oaky flavours of barbequed fish create a taste sensation. 
What we suggest to you could be completely different from how you like wine and seafood. Everyone's taste buds are not going to react the same way. Use our guide as a beginner's way to learn more about wine pairing and adjust to your taste. Hopefully, your seafood will be tastier when enjoying perfectly paired wine. Let us know how you get on.