The nights are becoming longer, the days are brighter, and that familiar feeling is back in the air. It's BBQ Season! We Brits use any excuse to dust off the BBQ and get the family around in the garden. More than anything, it's about showing off our grilling skills, the sun is starting to peek through the clouds, so why not?
Anyone can flip a burger or grill a sausage, but have you mastered the art of seafood on the BBQ? Both impressive and adventurous, seafood and sun go hand in hand. Proper foodies want to pull out all the stops for their guests, so be sure to amp up your seafood with homemade marinades, cook quickly over a hot, well-oiled grill, and you simply can't go wrong. If you're not sure what to add to your basket then check out our BBQ Feast bundle.
Are you ready to let the grilling commence? 
The Freshest Of All Fish 
To begin the preparations for your BBQ feast this season, you'll need some extra exceptional high-quality seafood. How about that, eh? You're in the right place. Seafood by Sykes offers you the very best, most premium seafood you can get, and it delivers direct to your door. Winner!
The Essentials… 
After your fish, you'll need some quality cooking tools. We recommend an excellent flexible metal fish spatula with a thin-edged blade. Try this; it will make flipping the fish around easier and will help if it sticks to the grill, the number one fish griller nightmare.
Achieving Restaurant Worthy Grilling
To achieve melt in the mouth flakes of fish with a summery smoky flavour with perfectly crispy skin, never place the fish directly over high heat. This will simply burn the skin before the middle has had a chance to cook. 200 – 220 degrees C is the sweet spot. If your fish has skin, then make sure your fish skin is generously oiled and seasoned with salt; this will help to prevent sticking. If you prefer more delicate fillets like seabass, wrap up with foil with a splash of lemon and summery herbs – think parsley, dill, basil & chilli. This protects the fish and lightly steams during cooking, resulting in melt in the mouth flakes.
Go Extra With Our Extra Large Prawns
Everyone's favourite seafood starter. Prawns are here to kick off BBQ party season. These are incredibly easy to cook all you need is 4 minutes of your time, lemon, and a sprinkle of basil; so fresh, so tasty, and oh so zesty. "Get them shrimps on the barbie."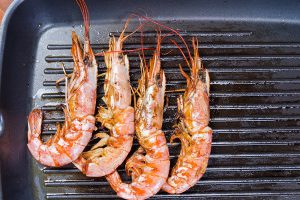 Meaty Monkfish
Monkfish and BBQing is a match made in heaven. It's almost criminal to cook it any other way, adored by seafood lovers everywhere for its meaty white flesh. This BBQ season, it's essential to take advantage and try out something new. Our Cornish Monkfish Medallions are perfect to create grilled Monkfish kebabs. It comes already cut to stab onto a kebab stick, so just drizzle with a squeeze of lemon for a zingy and fresh treat. So easy, yet looks and feels so 'fine dining.' 
The King Of The Sea 
Halibut couldn't be a more perfect choice for a BBQ. When grilled perfectly, you can't get much more melt in your mouth. Although, as well as famous for its title – King Of The Sea, Halibut is renowned for drying out quickly. Cooking time is short and needs your care and attention to make the most of the fish. Just flip once during grilling, and you'll know when it's cooked when it's opaque through the middle. Finish off and top with a fresh caper salad, and this will simply take your Summer BBQ to the next level.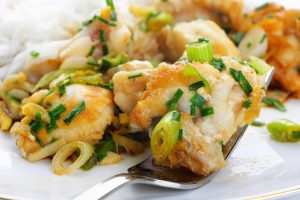 Impress with Grilled Lobster Tails
Is there anything more elegant and succulent than a grilled lobster tail? We recommend keeping it as simple as possible here; the tails do all the talking. The tail is widely regarded as the best and meatiest part of the lobster. Season simply with some garlic butter, salt and pepper. Finish with a squeeze o' lemon, and you've got a real treat. A true show stopper! Imagine impressing your guests and whipping these out. If you don't know where to start making the most of your lobster, fear no more. Check out this BBQ Lobster recipe for a BBQ Seafood showstopper.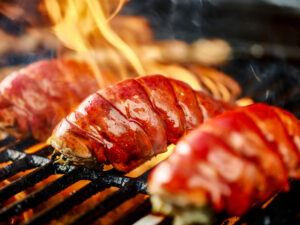 Want that Mediterranean feel? Seabass, of course.
This fish will transport you back to the stunning Mediterranean coast. The delicate yet distinctive flavour and the cool breeze of a Summer evening have you feeling like you're sitting having dinner overlooking The Aegean Sea (if you close your eyes). Cook whole; Seabass is made for this kind of cooking – the bones help impart flavour and moisture to the flesh. Try this recipe – Whole Barbecued Seabass with Lemon, Parsley, and caper dressing.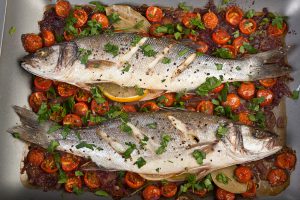 I don't know about you, but all I want to do now is wheel out the BBQ and grill all my favourite fish. The days are gone with the sausages and burgers; to impress guests, perfecting the art of BBQ'ing seafood is a sure way to do so. Let us know how you get on and if you have tried any of our recipes. We LOVE feedback!