Are Monkfish levels in danger? There has been a lot of coverage in the media this week about the sustainability of Monkfish in the UK.  While this does concern us as a business in the Seafood Industry, we source our Monkfish Medallions and Cheeks from Cornwall. This variety is considered safe and sustainable for the time being.
However, The Marine Conservation Society (MCS) has changed Monkfish from the North Sea and West of Scotland to a 'red rating'. Consequently, this means the Scottish and North Sea variety should be avoided. Furthermore, the charity has produced its latest assessment of UK seafood in its Good Fish Guide. This determines which fish sources are sustainable using a traffic light system.
Here, at Seafood by Sykes, we have an immense amount of responsibility to ensure the levels of fish and seafood we supply are never in danger. We monitor these levels with the help of our partners out at sea all around the world.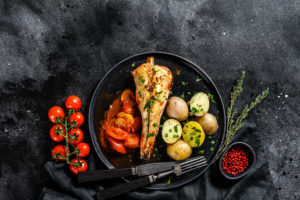 What Are We Doing About This?
As soon as we heard this news about Monkfish we wanted to reassure our customers that our variety is not at risk. The variant we supply is caught only in Cornwall and this is classed as sustainable. The Cornish fisheries we supply from always carefully monitor their fish stock. This is all part of Fishery improvements schemes being implemented across the UK. Our friends in Cornwall are always making nips and tucks to protect this valuable species for the future. Securing the species for years to come, so we can all enjoy this spectacular fish.
It's All About The Past, Present & Future
We source only the finest fish and seafood from all over the world. We are so proud to say that we have the utmost comprehensive knowledge of the industry, one that has been built over 160 years! This means we have built devoted relationships with trusted suppliers that have been part of our business for decades.
As well as our extensive processes to keep everything sustainable, we work closely alongside MSC, ASC, and Global GAP.. This helps us to ensure we are supporting the farmers and fishermen who too, share our attitudes to protect the natural world and closely monitor our supplier processes.
Not only do we work tirelessly to protect our natural wildlife. From catching out at sea to preparation, storage, and delivery, we do what we can to make sure all of our processes are sustainable.
Always 100% Sustainable
Luckily, here at Seafood by Sykes, we do all the hard work to ensure that everything we supply on our website is 100% sustainably sourced.  This means we guarantee you only the highest quality and sustainable seafood you can get your hands on. We are so proud to be able to say this.
Our email box is always open if you have any questions about our fish and seafood. Please drop us a message if you would like to know more about our sustainability checks. We love to chat with our customers.  Contact: chef@seafoodbysykes.com