The two words 'healthy' and 'fish' go hand in hand, but do you know which are the healthiest fish to eat? Top dietary recommendations have always included fish and shellfish as a staple of a well-balanced and nutritious diet for good reason. It's naturally low in calories and super high in protein, seafood is a great alternative to red meat and poultry, perfect news if you were considering reducing your meat consumption.
NHS recommends at least two portions of fish a week, including one portion of oily fish. Fish oozes with important vitamins and minerals to fuel your mind and body, you can't go wrong with incorporating some of our top 5 brain foods into your weekly meal rotation. 
Salmon –  A Nutritional Powerhouse
Top of the list, salmon. An indisputable champion in the health world and a true superfood. Abundant in protein and one of the best sources of omega-3 fatty acids you can get.
We all hear about fatty acids but do you know why they are so important? The body can't make these on its own so you have to obtain them through food like salmon. Fatty acids are vital for heart and brain health, they keep your heartbeat regular, lower blood pressure, and help blood vessels work as they should. Food with the right nutrients is a mood booster and can help enrich your mind. Omega-3 fatty acids have been proven to regulate your mood for prolonged periods. It works by basically helping to coordinate cortisol and adrenaline, which both cause feelings of stress.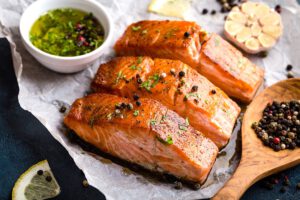 Mackerel – Oily and Oozing with Goodness 
Rich in healthy fats, protein, and selenium which are important for a healthy immune system and thyroid function. Wealthy in the good stuff, just one fillet of mackerel offers 100% of the RDI (recommended dietary intake) for vitamin D, around 71% of the RDI for selenium, and 20 grams of protein. In short, this oily fish is one of the healthiest seafood options available and should make it a regular on your plate. For some inspiration – Try one of our mackerel recipes here 
Tuna – Protein Packed & Simple 
Tuna is one of the most popular fish we eat here in the UK and health benefits are off the charts. Rich in protein, just 100g of this meaty fish contains your entire daily B12, B3, and selenium intake which supports energy levels and the nervous system. Looking for some Inspiration to use tuna for your mid-week meals? Try our super nutritious Grilled Tuna with Avocado and Tomato Salad recipe.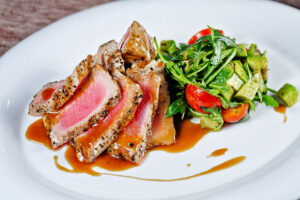 Sardines – Pure Brainfood 
Sardines define the term 'brain food'. They may not be the first thing that comes to mind when you think of brain health, but they are a top contender. Brimming with DHA and EPA which are forms of omega-3 fats, studies have found evidence that these can slow cognitive decline in later life by reducing inflammation and stress, a major factor in age-related dementia. They are nutritious, tasty and if you're used to the sardines found on your local supermarket shelves then forget all you know. Our whole Cornish Sardines are a universe away from the tiny tins. Simply effortless to grill and no prep needed, just season with a sprinkle of sea salt and a squeeze of lemon to bring out all the goodness. 
Mussels for your Muscles 
Inexpensive and one of the most sustainable ways you can consume seafood. Enjoyed for thousands of years across the world for their numerous health benefits, mussels are nutrient-dense.  Rich in all the important fatty acids you need for your body. Ample in vitamin B12, needed for the production of red blood cells. An average serving of just 5 mussels provides you with around 5mg of blood cell-supporting iron, that's more iron than a steak! Small but mighty and loaded with zinc, be sure to splurge on these seafood appetisers and reap their health benefits. Want to know how we harvest our mussels, read about how our rope-grown Irish Mussels are harvested here.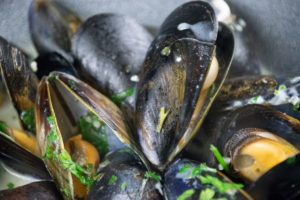 Healthy & Nutritious Meals
I suppose with all this fish talk you are now desperate to get your hands on some seafood and cook up some healthy and nutritious meals with our recommended recipes. Be sure to include these recipes in your weekly food diary and replace your usual options. You can thank us later when they are part of your usual repertoire. Elevate your health game and try out our top recommendations today that we have on offer today. 
If you didn't know already we have a Fit With Fish Box. Packed with premium products that'll help you add delicious and healthy options to your daily diet. Questions are always welcomed here, we love helping you in any way we can. Hit our email box and we will be sure to reply as soon as possible – chef@seafoodbysykes.com