The history of Fish and Chips is fascinating, and it's surprising how much instantly recognisable as British and will forever maintain its huge popularity. Each year in the UK, we go through 382 million portions of Fish and Chips and currently have about 10,500 Fish and Chip shops. This dramatically outnumbers any other fast food outlet, confirming that Fish and Chips are the undisputed National dish of Great Britain and are a culinary symbol.
There is nothing better on a rainy British day than tucking into piping hot, freshly cooked Fish and Chips with lashings of salt & vinegar and a side of peas; it's like a serving of deep-fried nostalgia. So, our beloved Fish and Chips, where did you come about?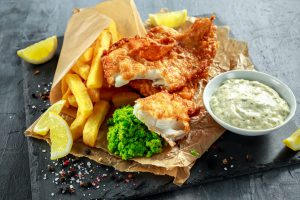 It Starts With The Humble Potato
The earliest known version of a chip we ate here in the UK came to Europe from Peru in the late 16th century. However, Charles Dickins gave us the earliest literary references to 'chippy' chips and can be traced back to the classic novel "Oliver Twist" in 1838, referencing "fried fish warehouses." Thicker than a traditional French fry, chunky 'chippy' chips feel and taste nothing like any other chip you would get anywhere else – It feels so quintessentially and unmistakably British.
Where did Fried Fish Come From? 
It's reported that fried fish was likely brought to the UK by Spanish and Portuguese refugees during the 16th century bringing their ground-breaking delicacies with them. Interestingly, the whole reason behind frying the fish was to preserve the fish to eat cold the next day. Typically using Cod or Haddock fried in a thin coat of flour, named "Pescado Frito." A favourite of Sephardic Jews, It was traditional to fry it on Fridays to prepare for the Sabbath. 
Where Did Fish and Chips Originate?
So the question we all want to know now about Fish and Chips… Where did Fish and Chips come from? Who combined the two elements? And where was the first-ever Fish and Chip shop?
There is a Fish and Chip war of who stakes the claim of the first 'chippy.' This is true of the old north and south rivalry, so I suppose it's where you're from, which one you'd rather believe. A Fish and Chip Shop was opened in London by Joseph Malin in 1860. He came to London's East End from Eastern Europe, first opening a shop selling fried potatoes and then later introducing fried fish on the menu, and it was an instant success. 
Others believe it was John Lees who was based in Mossley, near Oldham, Lancashire. It's not too far away from where Seafood by Sykes originates – there is something fishy in the water in these parts. Also, dating back to 1860, John Lees was reported selling Fish and Chips out of a wooden hut at Mossley market. So it's unknown who owns the title of the first Fish and Chip in the UK, but we all agree it's a heavenly combination and will forever be a staple in the UK.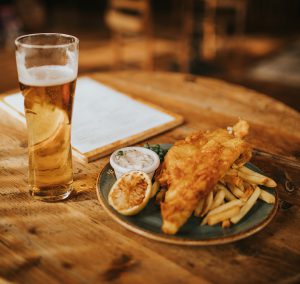 Nutritionally, it's good for you.
So are they good for us nutritionally? Sometimes, even the thought of tucking into Fish and Chips makes us feel the need to loosen our belts. However, compared to all the other takeaway and fast food options out there, Fish and Chips trump the lot. Offering a valuable source of protein, fibre, iron, and vitamins and provide a third of the recommended daily allowance of vitamins in men and nearly half for women.
You Can Make Your Own 
Howard, our resident chef here at Seafood by Sykes, has created tasty and easy recipes you can challenge yourself at home with. Although we love to go to our local Fish and Chip shop, we challenge you to have a go yourself and make your own. We have Classic Beer Battered Fish and Chips. Or, if you're feeling fancy and prefer something more up-market, give our Posh Fish and Chips a try. We have plenty of recipes on our website, but these are our suggestions. 
It's pretty amazing; from very humble beginnings, 'British' Fish and Chips are now a phenomenon worldwide and will only continue to grow. Enjoyed throughout Europe, Australia, New Zealand, and Southeast Asia.