When you think of Lobster, what is the first thing that comes to mind? Fancy restaurants, fine dining, impressive silver service, and cloches accompanied by an equally extravagant price tag. It's a meal seen fit for the most prestigious foodies and can elevate any dinner into a luxury masterpiece. However, it was not always seen as a superior delicacy and was classed as "the poor man's chicken"?
So, with one of the most remarkable rebrandings in history – How did Lobster gain its status in the foodie world.  
Very Humble beginnings
Did you know that Lobster went from being used as fertiliser to a beloved delicacy? Yes, that's right, it's so hard to believe; such a loved shellfish was once a throw-away food and considered a nuisance.
Once so abundant that when the first European settlers reached Massachusetts Bay, North America, they reported being washed ashore in piles up to 2 feet high! It's funny to think that just because there were so many of them, it meant they were undesirable when it is sought after worldwide and on every menu at the most prestige fine dining restaurants.
Boosting in popularity
Lobsters started to gain quite a following during the 1880s, and naturally, due to demand – the prices began to rise. So how did the crustacean move up in the world? We have to thank the discerning Boston and New York City diners for discovering the true beauty of the product and realising its true potential. By the time World War 2 began,  it was considered a delicacy and something only movie stars and people of extreme wealth could get their hands on.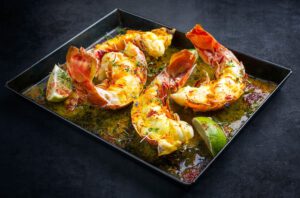 Is Lobster Healthy?
There is nothing like that sweet and buttery taste of Lobster. Surprisingly, despite being so rich and decadent, it good for us, containing more protein than chicken. Lobster offers similar benefits to other shellfish in that it's lean and oozing with nutrients that can boost health. As well as boasting of healthy omega – 3 fatty acids, it is abundant in essential vitamins and potassium.
Mouthwatering Recipies
With Lobster in mind, there are many different ways to incorporate this crustacean into your weekly meals. Luckily, we have made it easy for you to enjoy regardless of how skilled you are with that Lobster cracker. To enjoy hassle-free Lobster at home and save yourself hours of deshelling, boiling and cooking, try our Luxury Lobster Claw Meat. All protein and zero shells enjoy premium bite after bite luxury claw meat – often regarded as the tastiest part by shellfish enthusiasts.
Lobster Rolls
A New England street food staple. Once you try this recipe, you'll never want sausage in a hot dog bun again.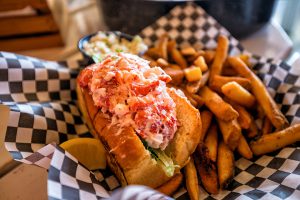 Classic Lobster Thermidor
It is an incredibly luxurious treat for every occasion, a show stopper that truly speaks for itself. 
Lobster Mac & Cheese Croquettes with Truffle Aioli
A luxury twist on a family favourite will indeed have everyone coming back for a second serving. Try it for yourself and challenge yourself a little.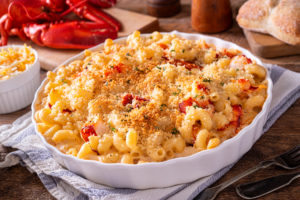 Katsu Cod & Lobster Scampi Karaage
Marry Lobster and Cod together, and you have a match made in heaven.
BBQ (grilled whole Lobster) – BBQ Season is on the horizon, and you can make a memorable moment using our delicious Lobster Tails. One of the most favoured parts of the Lobster you can extract some juicy meat from the tails. Finish off with some Lemon Chilli and Rosemary butter; you won't want to BBQ anything else after trying this. 
The history behind the crustacean is fascinating considering what people make of it today; it begs the question: What will be the next super trendy food that explodes on the foodie scene?