Everyone can admit that they can often be creatures of habit. It's human nature to stick to what you know. We get it; it's so easy to have the same set meals week on week, perhaps varying slightly depending on what's in the freezer – and we are happy to keep it that way. Yes, Salmon, Prawns and Cod are superb – but there are plenty more fish in the sea. It might be a moment for you to expand your fish supper repertoire with these underrated fish, yet attractive, and delicious options you might not otherwise put into your basket.  Don't they say everyone loves an underdog? Well in this case it's Fish!
Lemon Sole
You might find it hard to believe, but this fish doesn't taste like lemon and isn't even a sole! Why? You may ask. Well, the name comes from the French limande, which they use to refer to most flatfish. It is believed it was misheard at the market, and well, the name stuck!
You're missing a trick if you're not already on the Lemon Sole hype. Celebrated amongst top chefs worldwide and yet for some reason, not so much in our kitchens. It's such an underrated fish at home! We want to change that and encourage you to try Lemon Sole. Delicately flavoured, this fish is succulent and a treat for the taste buds. Why not try making a classic sole meuniere? With such a delicate and light fish, serve it with a complimentary light sauce.
Brown Crab
Crab is versatile and tasty, yet it can be tricky to extract all that delicious meat from a Cooked Whole Brown Crab, but once you get the knack of 'dressing', they can get pretty addictive. A Seafood by Sykes top tip would be to invest in a Crab Claw cracker. It will make the job 10x easier – we encourage you to try this if you're not already an expert.  There is something so satisfying about cracking the shell and digging around for the meat like its jewels.
Luckily, if extracting and dismantling crabs isn't your thing, we have the perfect solution for you. Take all the fiddly fuss out of preparing your own and try our ready-made Dressed Crab. With all the hard work done for you, you are left with a perfect combination of sweet flavoursome white crab meat balanced against creamy brown elegantly displayed in the back shell: an impressive show stopper and a wonderful centrepiece for you and your guests to enjoy.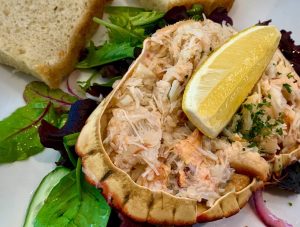 Traditionally Smoked Trout Fillets
We have all tried Smoked Salmon, which is not something we shy away from. Smoked Salmon is celebrated all over the UK, and it's worthy of its crown, but Traditionally Smoked Trout Fillets, which are low fat and high in omega-3, shouldn't be overlooked. Trout has a more delicate flavour and tastes less salty than the ever-present Smoked Salmon. Perhaps if you picked up a few fillets, you might actually prefer it.
Our skinless smoked Trout Fillets are sourced from the finest quality UK rainbow trout, raised in crystal-clear, well-oxygenated waters to create unique and smoky flavours. They are then cured with premium rock salt and placed in traditional smoking kilns where they are hot-smoked over a smouldering blend of English hardwoods. A smoky and delicious treat, try this recipe.
Sardines
When you read the word 'Sardine', what do you think of? Tiny tinned sardines you would find on supermarket shelves? Our Cornish Whole Sardines are a world apart from these. Sardines are a nutrient-dense powerhouse, high in essential omega-3 fatty acids, protein, calcium, and Vitamin D and support bone health. Phew! Here's to you, Sardines!
Our Sardines on our online shop are frozen shortly after the catch, locking in freshness and simple to cook. All they need is a sprinkle of high-quality sea salt and a squeeze of lemon, and they're good to go. They also work perfectly on the BBQ when the weather warms up as whole skin-on and bone-in fish; just serve with a big green salad and lots of crusty bread.
Mackeral
Almost entirely hook and line caught, our Mackeral Fillets are sustainably caught straight from the Cornish Coast. Excellent quality and outstanding value, packs of frozen mackerel are an absolute godsend. You can pull them out however many portions you need, and they work well with a plethora of dishes. Try grilling it with this Grilled Mackerel recipe. Or, try your hand at Soused Mackerel with Dill Creme Fraiche.
Here at Seafood by Sykes, we want to celebrate every fish!  And underrated Fish need a stage, and we suspect there might just be a few orders of these incoming… Any questions just hit our inbox. We are always happy to help.