Mother's Day is just around the corner and if you haven't thought about how to celebrate, don't panic as we have you covered. Plus, we'll be saving you 25% with our brand new Mother's Day bundles.
Every element is well thought out to ensure minimal prep, so you can spend more quality time with your mum on her special day. Whether it's your mum, step mum, your gran, whoever you're celebrating, show her how much she means to you and cook up something special on 27th March (just over a week away now!) 
Start With The Classics 
Introducing our Mother's Day Family Feast Bundle perfect for a big family get-together. 
Mussels, Scallops, and Whitby Battered Scampi to start; A delicious trio of everyone's favourite finger food to get all the taste buds tingling. Our XL North American Roeless Scallops are specially chosen as they give that real premium element to your starters. They have a succulent, yet light and delicate flavour profile. Our scallops are melt-in-the-mouth delicious and they go well with a glass of your mum's favourite champagne.
Next, we have Irish Mussels in White Wine and Cream, the beauty of these is there is no preparation, the flavours come bursting in the pack. We suggest serving with crusty bread to mop up that rich and creamy white wine sauce – yes, it's that simple. The pub classic Scampi couldn't be left out. A moreish staple perfect for your lavish feast, don't forget to add a squeeze of lemon for garnish and tartare sauce and you'll be good to go. Also, fun fact..  Did you know scampi are just tiny lobsters? Well… you do now.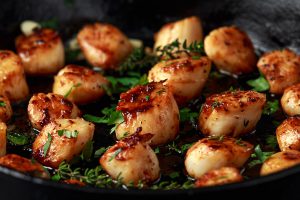 The Star Of The Show
When you think of luxurious seafood what is the first thing that comes to mind? Lobster, of course. It's a true show stopper and fit for a queen.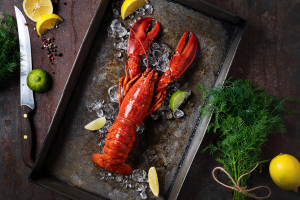 Crack into a whole cooked Canadian lobster with some delicious garlic butter for an indulgent and tasty crowd-pleaser for the main event. Even we'll admit getting into a lobster can be a tricky business, but once you're in, there is so much delicious meat bursting in every nook and cranny. If you feel you need to perfect the art of eating lobster check out our guide on how to make the most of it. Some more advice from us, to get all the delicious sweetness from every crevice, we recommend purchasing a set of tools to do all the hard work for you, these are specifically designed for cracking and cutting through those tough lobster shells. So, now you're all set.
Mother's Day Gift Box
Maybe you have other plans on Mother's Day but you still want to fill her freezer up with her favourite seafood. We all know food is the way to the heart. So give the gift of food, jam-packed with our most popular products. Lobster tails, dressed crab, potted shrimp with this stunning gift box. Shrimp, salmon, seabass, tuna, scallops, and wild red shrimp, all the freezer staples to keep her going for a while. 
However, you're celebrating this year give your mum the gift of seafood. Remember that all Seafood by Sykes orders has next-day delivery. Be sure to order before 1 pm, Monday to Friday to ensure the highest quality frozen fish and seafood arrive straight to your doorstep the next day. Order before 25 March to make sure it arrives in time.