We know that seafood and pasta are a match made in heaven. Just like traditional Italian cooking, we believe keeping things simple is often the key to perfecting any pasta dish. I mean, why would you want to over complicate something so effortlessly easy? It's officially spring, so rustle up some simple and oh so Italian pasta dishes that will have you feeling like you're transported from the kitchen to the Amalfi Coast. Here are our top 5 Seafood Pasta Dishes that will have your friends and family mistaking you for Mr. Gino D'acampo himself. *Chefs Kiss*
Punchy Penne Alla Vodka and Smoked Salmon 
This dish is perfect for a simple midweek meal with a total prep and cook time of just 25 minutes. Smoked salmon stirred quickly through pasta and delicious tomato sauce will become a staple in your kitchen. Simply glug in a generous serving of your favourite vodka and you're good to go. Trust us, don't be shy on the vodka – it seriously gives the dish a boozy kick!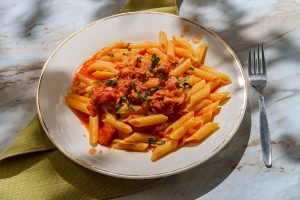 Instructions
Cook the penne pasta as instructed on the pack, and drain.

In a saucepan, fry off the garlic and onions in the butter and olive oil over a medium heat until soft. Pour in the vodka, being careful around open flames, and cook for 2-3 minutes until reduced.
 Pour in the tomato puree and stir until thoroughly combined, then reduce the heat to a gentle simmer. Add in the double cream and stir well. Sprinkle in the chilli flakes and smoked salmon at the very end to gently warm through.
Pour the drained pasta into the sauce and toss to combine.
Zesty Sicilian Seafood Linguine 
This zesty dish is all about celebrating the very best of our own sustainable seafood. Our Cooked Seafood Selection includes a generous medley of squid rings, mussel meat and king prawns. A true seafood-lover's dream, our selection is all cooked and prepared meaning there is zero mess or waste. All you need to do is add our Cooked Seafood Selection into the pan minutes before serving and stir through the pasta. Imagine a cooked to perfection seafood pasta with garlic, chilli and a good old splash of white wine. Sounds delicious right? Try it yourself and don't forget to finish it all off with a sprinkle of parsley.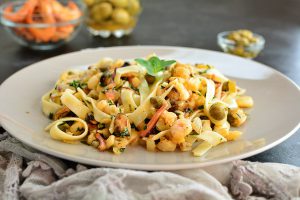 Instructions
Cook the pasta according to pack instructions.

Meanwhile, heat the oil in a large frying pan over a medium heat. Add the garlic and chilli and cook for a minute until softened. Pour in the wine, olives and capers and leave to simmer until reduced by half.

Add the tomatoes to the pan and soften for 2 minutes. Add in the seafood mix and heat through.

Drain the pasta, and toss together in a frying pan with the sauce until fully incorporated.

Divide between serving dishes and serve with a lemon wedge to squeeze over.
Creamy Smoked Haddock Risotto 
Pure comfort and a real people pleaser. Flakes of our gently Smoked Haddock lends itself perfectly to this pasta dish, paired with spinach and parmesan and we are crafting a delicious creamy creation. Even though this is simply delightful on its own. Adding a soft poached egg elevates the dish to another level. Have a go and tell us what you think.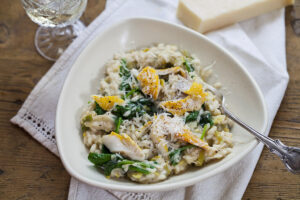 Instructions 
Preheat the oven to 200°C/180°C fan assisted. Put the smoked haddock fillets in a ceramic baking dish and cover with the milk. Bake for 15 minutes or until the fish is almost cooked, then carefully remove the skin with a fork then set aside the fish. Reserve the milk in a jug. 

Meanwhile, in a large frying pan, heat the oil and add the onion and leeks. Gently cook for 5 minutes until starting to soften, then add the rice. Gently fry for 2-3 minutes, stirring regularly.

Pour in the wine and simmer for a further 2-3 minutes. Then, add the stock a ladleful at a time, stirring frequently as it reduces. Once all the stock has been incorporated, start adding the reserved milk a ladleful at a time, stirring frequently as it reduces, until the rice is tender to the bite. You may not need all the milk.

When the rice is nearly cooked, stir in the spinach, lemon zest and juice. Then flake in the smoked haddock. Season generously with pepper (the fish will be salty so taste before adding salt) and sprinkle over the grated parmesan.
Seriously Spicy Prawn Linguine 
Healthy food doesn't have to be boring. Our Spicy Prawn Linguine recipe is so good you'll wonder how something so delicious is so healthy! You can always make this dish with no fresh chilli too, but trust us. You'll be missing out. The metabolism boosting chilli makes the sauce full of depth and flavour and goes so perfect with our juicy King Prawns.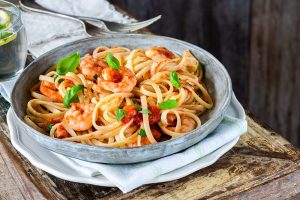 Instructions: 
Heat 1 tsp oil in a large frying pan, add the shallots and fry for 2 minutes before adding the ginger, garlic and chilli flakes.

Fry for another 2 minutes. Add the chopped tomatoes and simmer for 20 minutes until saucy.

Cook the linguine in boiling salted water until just tender, then drain.

Stir the parsley and the prawns into the tomato base, season well and cook until the prawns turn pink.

Add the cooked linguine, toss and serve.
Healthy Courgetti  Spaghetti With Pesto & King Prawns 
Gluten intolerant? Or watching the waist line? Of course we had to make sure everyone could sample the delights of Seafood By Sykes recipes, it would be simply criminal if we didn't! Even though our mouth watering, crowd pleasing pasta dish recipes can all be tailored to your own dietary needs, we thought we would include a GF and extremely healthy pasta alternative to finish off our Italian picks. You only need 4 ingredients and 15 minutes of your time to enjoy this high protein meal. Courgettes, Prawns, Pesto and a little helping of grated Parmesan. Done.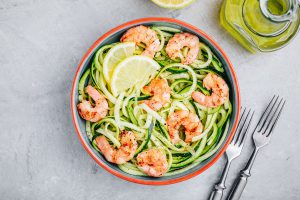 Instructions 
Push the courgettes through a spiraliser to create spaghetti shapes.

Heat a frying pan over a medium heat and add in the pesto.

Add in the prawns and the courgetti spaghetti and gently toss, allowing to warm through.

Serve immediately with a sprinkle of parmesan, if desired.
So there we go, there are our Top 5 Pasta Dishes. We hope you're getting your pots and pans at the ready to create some of our mouth watering dishes. We love to hear feedback here at Seafood By Sykes and we would be forever grateful if you could leave us your thoughts if you created any recipes .